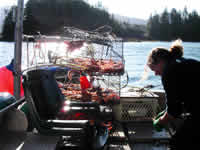 Prawn traps on back deck



I generally put a selection of groceries on the boat which I think will suit the guests. I have a tentative menu in mind but am very flexible and adaptable to whatever seems like a good idea for supper at the time. For suppers I always prefer fresh seafood if possible, with salads and a carbo. Fairly simple but healthy. Meal preparation and cleanup are done collectively by the group. Please remember - my trips are very participatory which includes the work as well as the play. It's called synergy, the sum being greater than the parts, that make my trips happen. Collectively we've put together some really fine meals.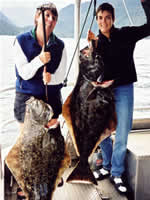 Supper?

Due to Fisheries and Oceans regulations any fish caught (by me) is not included in the cost of the charter. You can be sure however that I'll be generous enough to share a part of my catch with you - for free! If a fish is caught by you... you may choose to "gift" a meal or two to the rest of us. I know this makes absolutely no sense so ask me about it when I see you! Anyways...we did have some good luck fishing last year as well as managed the occasional crab and prawn feast. I love to fish but only for short periods - too much to see and do. As a change of pace from seafood we might fashion a chicken or vegetable curry, barbequed steak, a pasta thing some night – pretty much what you might have at home. I find that most people these days are light on meat and big on veggies, fruit and fish which suits me fine.

Vegetarians are more than welcome. I've found that vegetarians are often very creative and great cooks. With a bit of imagination we seem to have no trouble adapting just about any meal to vegetarian tastes.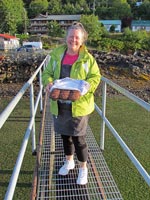 Sheila
delivering the goods…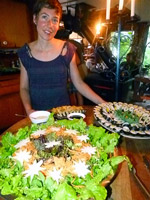 Susan's shy so here's a great picture of our friend Heather - a fabulous chef in her own right, displaying a work of art too good
to eat!
Wiggies
Sheila Wigmore - "Wiggies" - definitely delivers the goods when it comes to baking. Sheila provides wonderful bread and incredible baked treats for each trip. Often, not always - Sheila turns up at the plane with a tray of hot muffins to start the trip.
Rose Harbour
Rose Harbour is a turn of the century whaling station that's now populated by an eclectic group of peace loving folks. My friend Susan with the help of some really wonderful people, prepares fabulous meals from the bounty of her organic garden and the sea. We try to get into Rose Harbour each trip to enjoy the warmth of friendship and a feast the likes of which you'll likely never experience again.
Alcohol
I put a selection of quite nice "boxed" BC reds and whites on the boat. I think that you'll enjoy the wine but if you have a sensitive palette, prefer a particular type or plan on drinking more than a glass before supper and one at supper, please bring extra. I don't supply beer or hard liquor. The policy on hard liquor: you may certainly bring and consume it in moderation but please not before the anchor's down for the night.